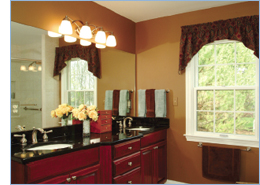 Is your bathroom small, cramped and cluttered?
Is there too much space not being utilized?
Does your tub, shower, vanity or cabinets need a "pick-me-up?"
Do you need an additional bathroom to take some of the strain off the existing one?

From the tiniest hall bathroom to the most luxurious Master Suite, Home Towne Construction has designed award-winning bathrooms of every size and configuration. Our certified design experts can help you to maximize your storage space, create a custom shower, add the whirlpool tub you have always dreamed about, and create the separate his and hers vanities.

Bathrooms come in all sizes and types. Whether it is a simple hall bathroom, or a large master suite, we will lead you through the design and selection process to help make your dreams a reality! Home Towne Construction is ready to hear from you.


Click thumbnails for larger view